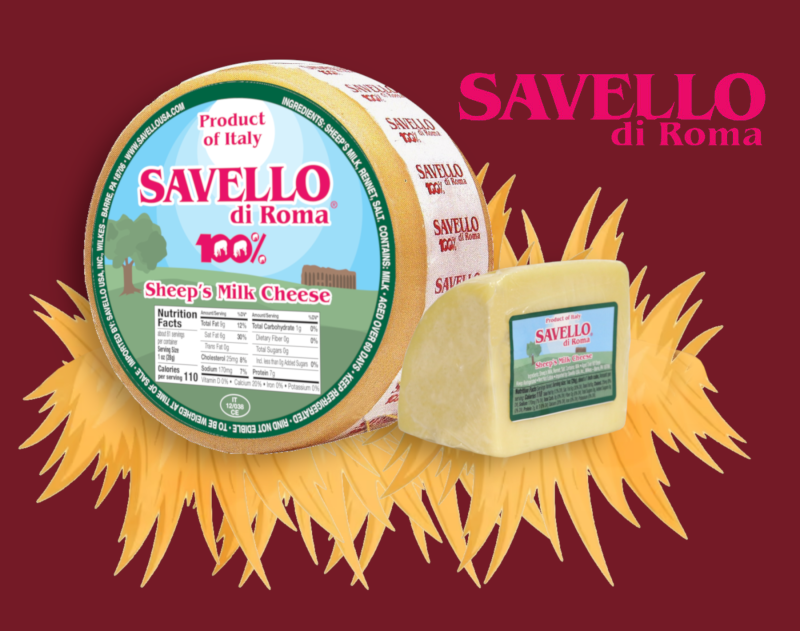 One of the oldest cheeses of time originated from the Roman countryside. Savello Cheese was named after Mount Savello situated between the banks of the Tiber River and the "Bocca Della Verita".
Savello Cheese is a two thousand year old traditional 100% sheep's milk cheese with particular characteristics, such as its definite aroma and a slightly sharp but mild taste that has improved with time. This is a semi-hard, semi-cooked cheese that is made with lamb's rennet. It is cured with salt and aged over 60 days in natural grottos on Beachwood boards. The cheese-making process results in a white or slightly yellow color. The rind is smooth and even. It is vacuum-packed and the average weight of each wheel is approximately 6 lbs.
The Sheep's Milk is produced from a Mediterranean breed of sheep that originates from ancient and traditional stock that has had no genetic alteration. It is important to point out that these sheep live in the open air and graze on a rich pasture that varies from season to season. The grasses of the Roman countryside's pastures produce rich, diverse and tasty milk that makes these sheep much healthier. The traditional breeds used by the shepherds of the Roman countryside are the Comisana and the Sopravissana. The production process incorporates the traditional techniques of many centuries ago with the modern technology of the cheese industry.
One ounce of Savello Cheese contains 8 grams of protein and is also rich in Vitamin A and provides 15% of the daily calcium requirement. This makes Savello Cheese an important part of a nutritionally well balanced diet.
---
*SO – Special Order
SEMI SOFT SHEEP'S MILK CHEESES
| | | |
| --- | --- | --- |
| 101442020 | Savello Di Roma | 2/6 lb |
| 101442040 | Savello Di Roma 1/2 cut | 4/3 lb |