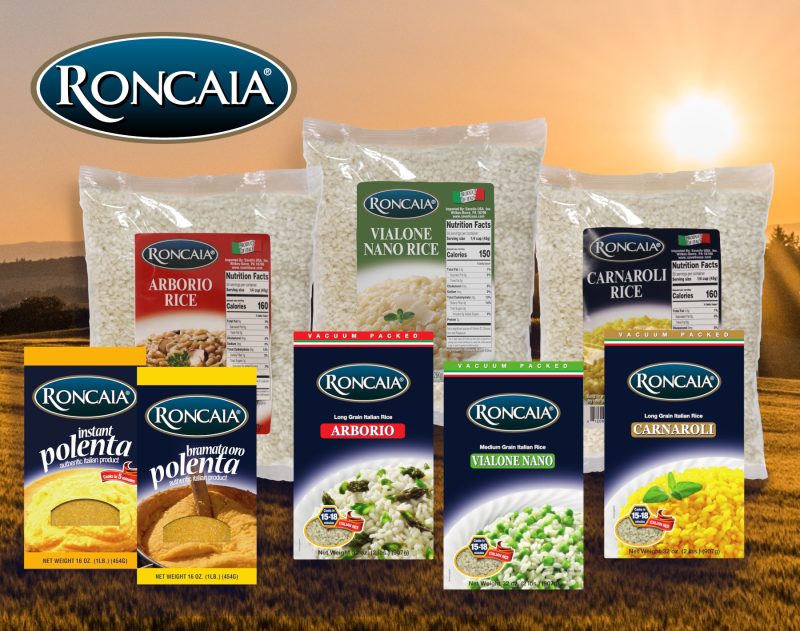 RONCAIA is a brand that is notable for its high quality rice and polenta. Roncaia's commitment to excellence is evident in its products, which are 100% Italian.
Roncaia is a well-known name in the rice industry offering wide a selection of rice.
Whether you're looking for a classic Italian risotto or a simple side dish, Roncaia is the perfect choice.
RICE
| | | |
| --- | --- | --- |
| 105244020 | Arborio Rice Box | 12/2 lb |
| 105244110 | Arborio Rice Bulk – 5lb Bag | 4/5 lb |
| 105244030 | Carnaroli Rice Box | 12/2 lb |
| 105244050 | Carnaroli Rice Bulk – 5lb Bag | 4/5 lb |
| 105244080 | Vialone Nano Rice Box | 12/2 lb |
| 105244090 | Vialone Nano Rice Bulk – 5lb Bag | 4/5 lb |
POLENTA
| | | |
| --- | --- | --- |
| 105144020 | Polenta Istantanea Box | 12/1 lb |
| 105144050 | Polenta Bramata Box | 12/1 lb |