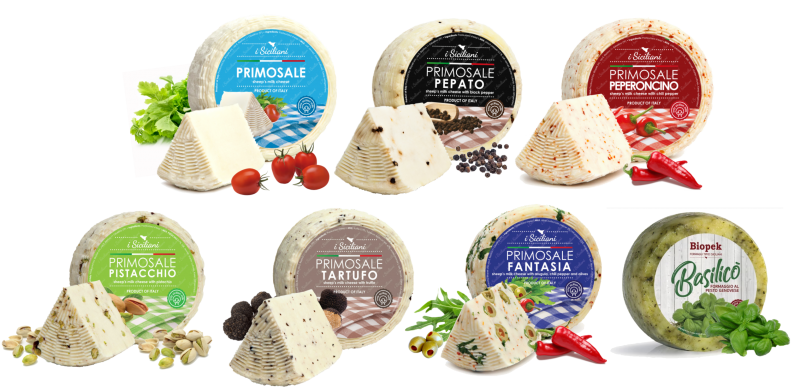 I Siciliani produces authentic and traditional cheeses, following the centuries-old experience of our shepherds, and thus safeguarding the rich gastronomic environmental and cultural heritage of our region. We bring to your table products that represent us, and the positive values of our land, sharing them with Italy and the World. We set ourselves apart by our enthusiasm and desire to offer new solutions, offering our experiences in the development of partnership projects that create value for our customers and constantly try to improve ourselves while remaining faithful to our values.
We choose perfectly aged, traditional, Sicilian cheeses to bring an Italian touch to tables all over the world. Tradition, authenticity and innovation are the best guarantees for products with unrivaled taste.
Always attentive to the environment, I Siciliani adopted different solutions to save energy over the years. The company has installed two photovoltaic systems which enable it to product about 95.000 kwh of electricity per year, or about 75% of the company's requirements. This is a savings of about 106,000 Kg of CO2 emissions per year.
---
SEMI SOFT SHEEP'S MILK CHEESES
| | | |
| --- | --- | --- |
| 101430010 | Primosale 2.5 kg | 2/5 lb. |
| 101430050 | Primosale Peperoncini 2.5 kg |  2/5 lb. |
| 101430090 | Primosale Pepato 2.5 kg |  2/5 lb. |
| | | |
| --- | --- | --- |
| 101430020 | Primosale 1 kg | 6/2 lb. |
| 101430060 | Primosale Peperoncini 1 kg  | 6/2 lb. |
| 101430100 | Primosale Pepato 1 kg | 6/2 lb. |
| 101430140 | Primosale Tartufato 1 kg | 6/2 lb. |
| 101430180 | Primosale Pistacchio 1 kg | 6/2 lb. |
| 101430210 | Primosale Fantasia 1 kg | 6/2 lb. |
| 101430240 | Primosale w/Pesto Genovese | 6/2.5 lb. |
| | | |
| --- | --- | --- |
| 101430030 | Primosale 500gr | 12/1 lb. |
| 101430070 | Primosale Peperoncini 500gr | 12/1 lb. |
| 101430110 | Primosale Pepato 500gr | 12/1 lb. |