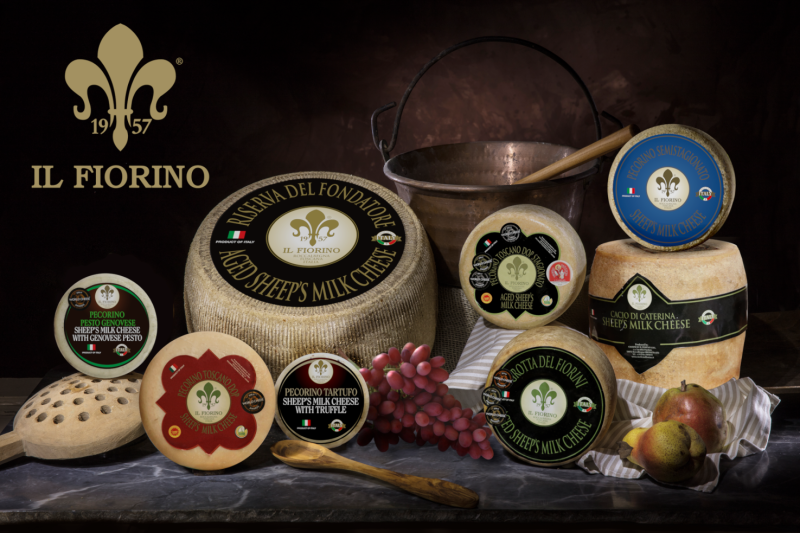 The Fiorini family established their dairy bearing the same name in 1957. The dairy is situated in an area of extraordinary fascination and historical value: the medieval village of Roccalbegna on the slopes of Monte Amiata, skirted by the Albegna river.
The history of the dairy is a family history as well and Duilio Fiorini's resourcefulness is, with certainty, the heritage of a race of great workers. This paragon artisan establishment is exporting today all around the world, winning international prizes due to the perfection of their own production.
Fresh cheeses are left to mature in damp and warm rooms to complete the purging and the lactic fermentation to build up their taste. Hard cheeses are left to mature after having been dry-salted, a proceeding that besides giving them a stronger taste allows their conservation. The whole cheeses are put on wooden boards and left to mature in a natural way in adequate rooms as far as temperature and humidity are concerned as this phase of the proceedings is decisive for the final quality of the product. The mould appearing in this lapse of time is washed away strictly by hand and only with water. Before being marked the product is only brushed by hand.
The owners want to stress the fact that the "Fiorini" family could be called an enlarged family because the over twenty workers employed in the establishment, as well as the local breeders who furnish the paragon raw materials, proudly participate to these successes.
---
TUSCAN SHEEP'S MILK CHEESES
| | | |
| --- | --- | --- |
| 101592010 | Riserva del Fondatore | 1/40 lb |
| 101592050 | Cacio di Caterina | 1/11 lb |
| 101592090 | Pecorino Grotta del Fiorini | 2/4 lb |
| 101592130 | Pecorino Toscano DOP Stagionato | 2/4 lb |
| 101492010 | Pecorino Toscano DOP Fresco | 2/4 lb |
| 101492400 | Pecorino with Truffles | 3/2 lb |
| 101492480 | Pecorino with Pesto Genovese |  3/2 lb |